Border Issues Working Group
Mission: Focus on the mitigation of communications issues involving public safety operations in the United States border areas, and proactively work in international regulatory realms to facilitate more effective communications in these border areas.
Tasks:
Work with Canada and Mexico to help facilitate timely and effective international allocation, regulation, and sharing of 700 MHz spectrum
Provide documentation of NPSTC's positions in related regulatory matters and filings
Assist NPSTC and the public safety community with the border region aspects of the 800 MHz rebanding efforts
Serve as a focal point for border area public safety communications issues in all bands, as they arise.
---
Southern and Northern Border Task Force Proposed Plan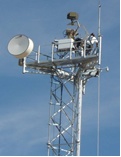 Summarize current issues with cross-border coordination process and spectrum access;
Provide recommendations to improve coordination/spectrum access, identify both near- and long-term actions;
Provide recommendations to help enable cross-border interoperability, identify both near- and long-term actions;
External Action Plan: Determine what is needed for the government agencies to implement recommendations;
Internal Action Plan: Define action plan, target deadlines and who has responsibility for each action;
Identify points of influence to maximize the chance of success;
Develop outreach plan to gain support within public safety community;
Through its parent Interoperability Committee, coordinate recommendations and action plans with Spectrum Management and Technology Committees.