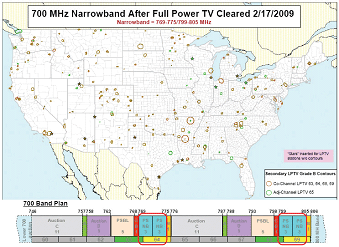 TV Broadcast Auxiliary Operations
Broadcasters are allowed to use spectrum not occupied by TV for broadcast auxiliary operations, including wireless microphone use in support of broadcast operations, as well as permanent and temporary fixed links These operations, which occur on an ad hoc basis are coordinated through the Society of Broadcast Engineers (SBE); therefore, SBE coordinators also need to be made aware of 700 MHz public safety systems so they can avoid any proposed auxiliary operations that would conflict with public safety systems.
Unlicensed Use
In addition to broadcast and auxiliary uses licensed "by rule," churches, schools, bands, businesses, and others use wireless microphones in this spectrum. While not authorized under the rules, these wireless microphones are nonetheless prevalent in the market. Some wireless microphone manufacturers have designed new products that avoid the 700 MHz band; however, there is a significant embedded base of wireless microphones already in the market and some operate at 700 MHz. These are low power and pose a limited interference potential but still must be addressed. NPSTC is having additional discussions with microphone manufacturers and the FCC to determine viable ways to address the wireless microphone issue.