July 01, 2015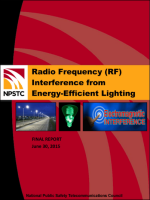 Last fall NPSTC was approached by several individuals and organizations who reported interference to public safety radio networks from energy efficient lighting devices or systems. In October 2014, NPSTC issued an initial query to the public safety community which resulted in dozens of responses.
Lake County, Florida, reported interference to the public safety VHF band and amateur bands after installing new tower lighting on its radio sites. Las Vegas, Nevada, experienced extreme interference in the UHF band from a business using excited plasma lights. An incident management team operating at a fire in northern California in August 2012 had set up and tested all of its communications equipment. During the evening operational period all communications failed. The source was determined to be a string of overhead fluorescent lights. Quebec, Canada, reported interference problems on its public safety VHF trunking system from LED lighting made by a variety of manufacturers, which created a strong interfering signal within 100 meters of the building.
Based on the initial input from multiple agencies, NPSTC developed and compiled a more formal questionnaire which was distributed broadly throughout the public safety community to seek information on such interference, the frequency band(s) affected, how any interference manifested itself, whether the interference has been resolved, etc. The NPSTC Report,
Radio Frequency Interference from Energy Efficient Lighting
, details the results of this questionnaire.
While cases of interference to communications from energy-efficient lighting is not yet at epidemic proportions, NPSTC believes additional attention should be paid to the issue. NPSTC expects the instances of interference to expand going forward as building codes and interests in saving energy further increase the pressure to deploy energy-efficient lighting. The Report recommends the Commission open a proceeding to address the need for updates to its rules to help prevent such interference from the outset as the deployment of energy-efficient lighting is expected to increase over time.